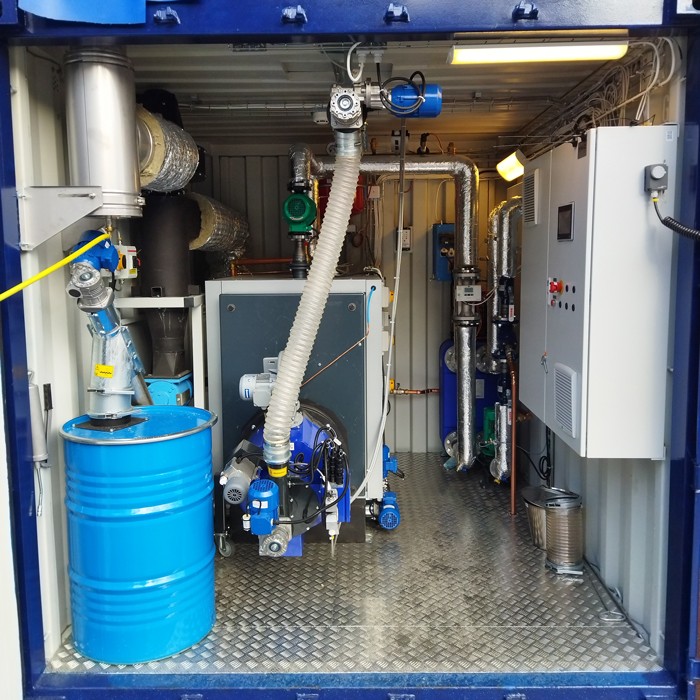 Easy and fast installation
Pellet boiler and fuel storage in one unit
Reliable
Environmentally friendly (carbon neutral)
Fully automatic operation
Cheaper than both electricity and oil
Construction heat Water 150 kW
With Janfire Construction Heating, delivery reliability is as secure as for ordinary district heating. No fixed operating costs and you only pay for the energy consumed.
We handle everything from pellets to sweeping, and with secure monitoring with the help of internet connection and SMS notifications and in case of any downtime we are always on call and are available on-site if something should happen. Our boilers are Class 4 certified and do not require any daily supervision, nor any emergency cooling due to our patented combustion chamber.
The water boilers also have monitoring for the pressure vessels. Should a water hose leak or if there is dirt in the filter, we will notice it, and fix it in time. All in order to ensure a stable and safe operation. The installation of all our boilers is simple and can be operational in under two hours.
Acts as district heating
Fossil-free
Requires an area of 3x3m
Connection 2 inch camlock
No requirement for 90 min in set-up
Want to know more about
our construction heating solutions?
Contact us for information!