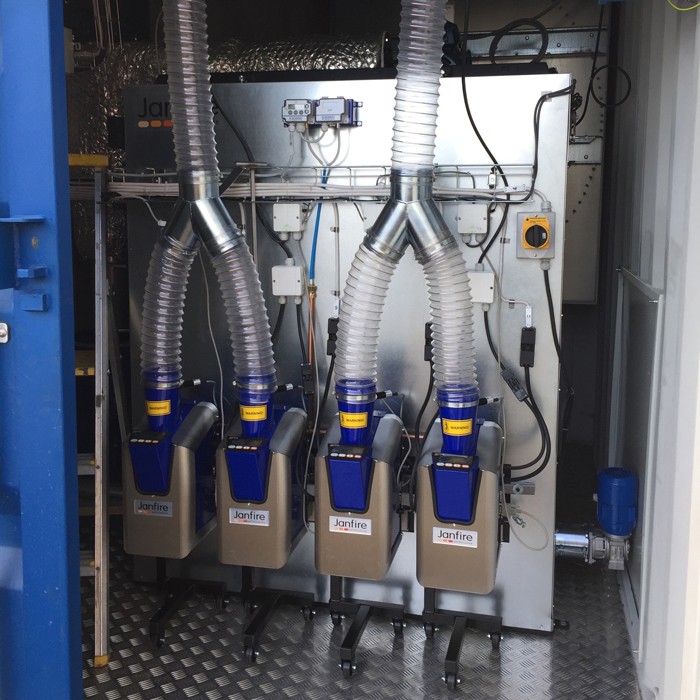 Easy and fast installation
Pellet burner and fuel storage in one unit
Reliable
Environmentally friendly (carbon neutral)
Fully automatic operation
Cheaper than both electricity and oil
Construction heat Air 100 kW
The heating system in the container unit is built with four Janfire NH pellet burners and are intended for temporary heating/drying of construction sites and facades. Control and monitoring is done via Janfire's PLC system. The system is connected to the internet, which provides the ability to monitor the operation remotely. In case of any notifications, an SMS is sent out to on-call staff. The silo level is continuously measured, and an SMS is sent out at low levels.
The air is supplied with an 11 kW frequency controlled fan. The speed of the fan is controlled by the temperature of the air from the boiler via the control system. Filters are available on the intake of the container unit, easily interchangeable from the outside. Connection for outgoing air is 500 mm. For incoming air, in case of recirculation, 800 mm. The operating hours can be adjusted remotely if it is to be used during certain days or hours. The operation of burners as well as service and sweeping are handled by Janfire's staff. When the device is running at reduced power, the burners alternate according to a rotating schedule.
Acts as district heating
Fossil-free
Requires an area of 3x3m
Connection for outgoing air hose is 500 mm
Want to know more about
our construction heating solutions?
Contact us for information!